Big Pit, Beacons & Books

The World Heritage Site of Blaenavon
UNESCO inscribed the Blaenavon Industrial Landscape as a World Heritage Site in December 2000. The reason stated was:
'The area around Blaenavon bears eloquent and exceptional testimony to the pre-eminence of South Wales as the world's major producer of iron and coal in the 19th century. All the necessary elements can be seen, including coal and ore mines, quarries, a primitive railway system, furnaces, the homes of workers, and the social infrastructure of their community'.
Blaenavon World Heritage Centre
The Blaenavon World Heritage Centre is located in the former St. Peter's School. The school was built in 1816 by Sarah Hopkins in memory of her brother, the Ironmaster, Samuel Hopkins. It was one of the earliest purpose built schools in Wales to be established by an industrial employer for the benefit of the children of the workers. Work began on restoring the building early in 2005. The centre was opened by Rt. Hon Rhodri Morgan, First Minister for Wales.
During a visit to the centre we learn about why Blaenavon has become a World Heritage Site. We find out about the lives of ordinary men, women and children who shaped this area during the industrial revolution and so helped create the modern World.
The Blaenavon Ironworks
The Blaenavon Ironworks started production in 1789 and was to become the first purpose built multi-furnace ironworks in Wales. At that time it was on the cutting edge of technology. The furnaces were coke fired and the blast provided by a steam engine.
Blaenavon is now home to one of the best preserved 18th century ironworks in Europe. It is complete with furnaces, cast houses, a magnificent water balance tower, cupola furnace, calcining kilns and ironworker's cottages.
More recently, the Ironworks was home to BBC Wales series 'Coalhouse', where three families were transported in time to life in 1927 Blaenavon.
Pwll Mawr - Big Pit
We visit Big Pit, the National Mining Museum of Wales, where escorted by an ex-miner, you can descend the 300 feet mine shaft to walk through an underground world of coal faces and levels, air doors and stables. On the surface, the winding engine-house, blacksmith's workshop and pithead baths complete the picture of a working pit that, at its height, employed 1300 men.
Hay-on-Wye
We continue to Hay-on-Wye, the 'Town Of Books', with its maze of narrow ancient streets, housing over 35 bookshops with over a million books for sale - a mecca for second-hand book and antiquarian book lovers!
Hay is located on the northernmost point of the Brecon Beacons National Park and lies on the Welsh border in the county of Powys.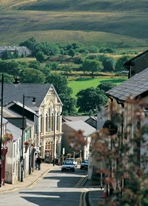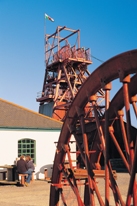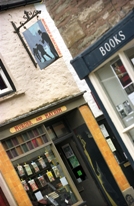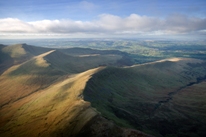 The Brecon Beacons National Park
The Brecon Beacons National Park spans 519 square miles of beautiful mid-Wales contryside and contains some of the most spectacular and diverse landscapes in Europe.The landscape is scattered with prehistoric monuments, Roman remains and medieval castles, spectacular waterfalls, caves and wooded gorges, along with distinctive upland formations.