Beacons, Books and Black Mountains
Take a short walk with your guide and enjoy the fantastic views overlooking the whole of Cardiff, a panoramic view of the South Wales coast, combined with stunning views of The Valleys and The Brecon Beacon National Park (weather dependent).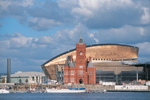 Caerphilly Castle
We drive to Caerphilly Castle, the second largest castle in Britain. Built in the late 13th century, the fortress is a supreme example of the concentric 'walls within walls' system of defence. Also the castle's outstanding water defences made it almost impregnable to siege warfare.
Particularly noteworthy features include the gatehouse, banqueting hall and full-size working replicas of medieval siege-engines. Often threatened but, unsurprisingly, never taken, the castle's only sign of weakness is its famous leaning tower (which out-leans the tower at Pisa!)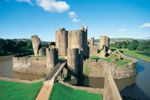 The Brecon Beacons National Park
The Brecon Beacons National Park spans 519 square miles of beautiful mid-Wales countryside and contains some of the most spectacular and diverse landscapes in Europe. The landscape is scattered with prehistoric monuments, Roman remains and medieval castles, spectacular waterfalls, caves and wooded gorges, along with distinctive upland formations.
We will enjoy a walk to an Iron Age settlement, which offers stunning 360 degree views of the National Park, including the Beacons, Corn Ddu and Pen-y-Fan, the highest mountain in South Wales, with its distinctive red table top summit standing at 886 metres.
We take in superb views of the heart of the Wales.

Hay-on-Wye
We continue to Hay-on-Wye, the 'Town Of Books', with its maze of narrow ancient streets, housing over 35 bookshops with over a million books for sale - a mecca for second-hand book and antiquarian book lovers!
Hay is located on the northernmost point of the Brecon Beacons National Park and lies on the Welsh border in the county of Powys.
'Hay Festival, a gathering in the staggering beauty of the Brecon Beacons National Park. Writers, comedians and musicians that have the capacity to change our lives, to share new visions of the world, and to do that incredibly sexy thing – to renew our sense of wonder.' Hay Festival Homepage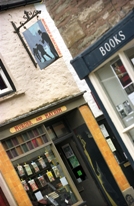 The Black Mountains
Take in breathtaking views of the northeasternmost section of the Brecon Beacons National Park, the Black Mountains. The Black Mountains displays awesome remoteness, only partly tamed by human habitation. Tiny villages, isolated churches and delightful lanes are folded into the undulating green landscape.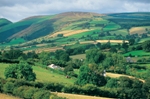 The Brecon and Monmouth Canal
After lunch we drive to the southern edge of the National Park, taking a scenic route towards the attractive village of Talybont-on-Usk, in the Usk Valley.
You will have the opportunuty to take a pleasant and relaxing walk along part of the old Brecon and Monmouth canal. The canal was opened in 1812.