South Pembrokeshire Coast
Laugharne
Our journey towards the South Pembrokeshire Coast brings us to the western tip of Carmarthenshire and the ancient town of Laugharne, with its 12th century castle once painted by Turner.
Laugharne is synonymous with the Welsh poet and broadcaster Dylan Thomas, who found inspiration here for one of his best known works - 'Under Milk Wood'.
Dylan Marlais Thomas is Wales' best known and most celebrated writer. Despite periods spent in London, America and elsewhere, throughout his life Dylan kept returning to Wales.
Dylan is widely regarded as one of the twentieth century's most influential lyrical poets. Although primarily a poet, Dylan also published short stories and film scripts, and publicly performed his works and conducted radio broadcasts.
We follow in the great poet's footsteps...visiting The Boat House, where Dylan lived and worked.

Pendine
We travel the coastal road alongside Pendine Sands, a seven-mile beach famous for land speed records, where in 1927 Malcom Campbell set a new World Land Speed Record of 174.88 mph.
Our drive to Tenby is a particularly scenic route, which hugs the South Pembrokeshire coastline, occasionally offering glimpses of this popular Victorian seaside resort and the island of Caldey, home to a Reformed Order of Cistercian monks who welcome visitors to their tranquil retreat. A monastic presence has existed at Caldey since it was first settled by Celtic monks in the 6th Century.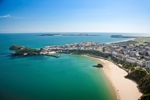 Tenby
Tenby is steeped in ancient history with its high medieval walls which were strengthened by Jasper Tudor, uncle of the future king, Henry VII in the 15th century. Tenby has been on the leisure map for nearly 200 years, since wealthy Victorians provided finance to develop the town. Tenby is considered by many to be one of the UK's most attractive holiday resorts - a medieval centre, narrow cobbled streets packed tight with shops and places to eat, and three award-winning Blue Flag Beaches.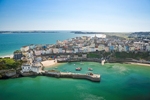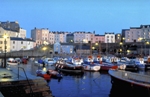 The Castlemartin Peninsula
We then head towards this dramatic part of The South Pembrokeshire Coast, which has many special features of interest. Photographers, birdwatchers, walkers, climbers, geologists, historians, artists and anthropologists have all been drawn to this most scenic and interesting of areas. We take a short walk to St. Govan's Chapel, one of the wonders of South Pembrokeshire, a remarkable 6th Century hermit's chapel, named after the hermit and saint who lived there. Nearby we view the dramatic coastline - the chasm of Huntsman's Leap, the sea stacks at Stack Rocks and the rock arch of The Green Bridge of Wales. (Access to St. Govan's Chapel and The Green Bridge of Wales is dependent on access via M.O.D. tank range)
A drive to Freshwater West, takes in the village of Castlemartin, whose church houses an organ once owned by Mendelssohn. Freshwater West is a haven for surfers, drawn to the area by the big Atlantic rollers that sweep in.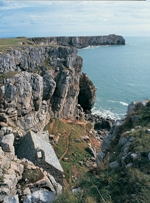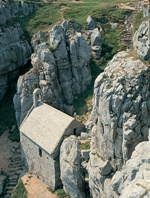 Pembroke Castle
The ancient borough of Pembroke, a small but charming walled town, was built around the great fortress of Pembroke Castle, the birthplace of Henry VII. Idyllically set on the banks of the River Cleddau, it is an intriguing place to explore. Soon after The Battle of Hastings, the Normans looked to Wales and in 1093 The Earl of Montgomery built the first Pembroke Castle, an earth and timber structure. In 1189, William Marshal became Earl of Pembroke and he transformed the castle into the magnificent stone fortification which we are able to view on our tour. The impressive condition of the castle is due to the extensive restoration programme begun when Major General Sir Ivor Philipps, of nearby Cosherston Hall, acquired the ruins in 1928. Today, the General's family and Pembroke Town Council manage the trust set up by the General to maintain it.

Carew
As we leave this beautiful county, we stop at this hamlet, where most conspicuously stands its magnificent riverside castle, the only castle to be managed by The National Park Authority. It is here we find Carew's treasure - the 11th Century Celtic Cross, commemorating an early Welsh Prince, Maredudd ap Edwin, who in 1033 became joint ruler with his brother of Deheubarth, the kingdom of south-west Wales. Just two years later he was killed in battle.