Saffari yng Nghymru - Safari in Wales
Our Safari in Wales is designed to offer visitors to Wales a comprehensive guided experience, at a relaxed and comfortable pace.
Join your guide as he takes you on a six day journey which spans the length and breadth of Wales.
This is an all embracing tour, showcasing Wales' history, culture and outstanding natural beauty.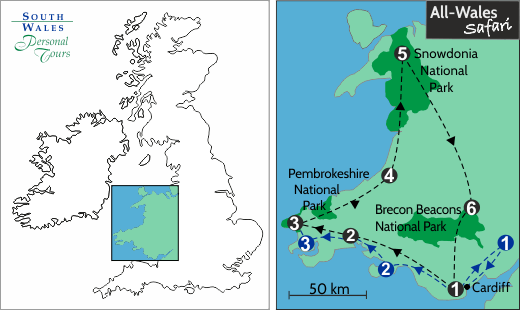 ---
Day 1 - (1st Alternative) - The Wye Valley Tour Day 1 - (2nd Alternative) - Cardiff and Surrounding Area Day 2 - (1st Alternative) - The Gower Peninsula Day 2 - (2nd Alternative) - South Pembrokeshire Coast Day 3 - (1st Alternative)- The Castlemartin Peninsula Day 3 - (2nd Alternative) - The Heritage Coast Day 4 - The West Coast Day 5 - Snowdonia Day 6 - The Heart of Wales

---

Day 1 - (1st Alternative) - The Wye Valley Tour

Chepstow Castle

Our first visit is to Chepstow Castle, situated on its rock above the swirling waters of the River Wye. Standing guard over a strategic crossing point into Wales, this well-preserved landmark castle is probably the first stone castle to be built in Britain and one of the few to trace the evolution of medieval military architecture from start to finish.

The Wye Valley

North of Chepstow is the Wooded Wye Valley, an 'Area of Outstanding Natural Beauty' which winds its way through Tintern to Monmouth. Tintern, dominated by the soaring ruins of its medieval abbey, has attracted poets and artists for centuries. Today, it's also popular with country-lovers who follow the Wye Valley Walk or the Offa's Dyke Path in the hills above.

Tintern Abbey

We then drive to Tintern Abbey, an outstanding example of Gothic architecture as well as providing a fascinating insight into monastic life in medieval times. Wordsworth was inspired by his visit to write his famous poem, 'Composed a Few Miles Above Tintern Abbey'.

Monmouth

We travel north through the Wye Valley to the historic Welsh border market town of Monmouth, situated at the confluence of the Rivers Wye, Monnow and Trothy.

Perhaps best known as the birthplace of Henry V, Monmouth boasts a whole host of historical sites, people and buildings from the Nelson Garden to The Town Hall. It has a medieval 13th-century bridge over the river Monnow, unique in Britain as it is the only preserved bridge of its design remaining.

Raglan Castle

Raglan was the last medieval fortification built in Britain. Raglan was built on the site of a former Norman motte in 1435. The design combines practical strength with ostentatious style. Raglan castle is set amongst rolling border country. Once a sumptuous palace, with formal state apartments and a Great Tower, it was more a state of wealth and social aspiration than an intimidating military presence.

It acquitted itself well however, when forced into active service, enduring in 1646 one of the longest sieges in the English Civil War, before falling to Cromwell's forces and suffering at the hands of his demolition team. Even in ruin however, noble Raglan remains the finest late-medieval fortress palace in the British Isles.

The Vale of Usk

The landscape of The Marches - the Welsh border, is dominated by two rivers, the Wye and the Usk. They meander through green vales set in rolling countryside.

The entire area is idyllic touring country. Scenic roads weave across hill and vale dotted with pretty little towns and villages. Our journey takes us through the historic floral town of Usk. The town Usk stands in the valley of the same name. The Usk is a famous salmon fishing river and also has its own beautiful long-distance footpath, the Usk Valley Walk.

South of Usk, the river loops around Caerleon, a town in which King Arthur reputedly held court. Caerleon also has an important Roman ancestry still evident today in its amphitheatre, excavated bathhouse complex, barracks and museum.

Roman Caerleon

Our final stop is Caerleon, one of Europe's most fascinating and revealing Roman sites. To the Romans Caerleon was known as Isca or often referred to as 'City of the Legions'. Here they created not just a military camp but also an entire township, complete with amphitheatre which, in its heyday, would have seated in the region of 6,000 people and would have been the scene of many gladitorial games against men and beasts. Dr Mortimer Wheeler extensively excavated the remains of the Amphitheatre in 1926 and they remain some of the best preserved in Britain.

The Roman Fortress of Isca was the permanent home of the Legio II Augusta, named after the emperor Augustus who had raised or possibly reformed the second legion. The site was first occupied cAD75 by Sextus Julius Frontinus who had been instructed by Emperor Vespasian to pacify the Welsh and the site he chose provided an easily defendable area with good access down the Usk estuary, for essential supplies by sea.

The variety of remains on view in Caerleon is unparalleled within the British Isles, providing us with a vivid picture of life in Roman Britain almost 2,000 years ago.

Day 1 - (2nd Alternative) - Cardiff and Surrounding Area

Europe's youngest Capital City, Cardiff, is the Capital City of Wales. Founded by the Romans, influenced by the Normans, Cardiff exploded onto the world map, earning the reputation of The Coal Exporting Capital of the World.

Cardiff's Civic Centre

Join us on a drive through the green heart of Cardiff and enjoy the history, geography and architecture of this vibrant and dynamic Capital City.

Castell Coch

Take in the extravagence of the medieval, gothic fantasy, Castell Coch. Designed and built by the eccentric genius William Burgess and financed by his wealthy patron, the shy and scholarly Third Marquis of Bute.

Caerphilly Castle

We drive to Caerphilly Castle, the second largest castle in Britain. Built in the late 13th century, the fortress is a supreme example of the concentric 'walls within walls' system of defence. Also the castle's outstanding water defences made it almost impregnable to siege warfare.

Particularly noteworthy features include the gatehouse, banqueting hall and full-size working replicas of medieval siege-engines. Often threatened but, unsurprisingly, never taken, the castle's only sign of weakness is its famous leaning tower (which out-leans the tower at Pisa), possibly caused by subsidence.

The Museum of Welsh Life

An afternoon spent at St. Fagans Museum of Welsh Life. In this open-air museum you will discover how the people of Wales have lived, worked and spent their leisure time, over the last five hundred years.

Cardiff Bay>

Cardiff Bay offers the visitor to the Welsh Capital a glimpse into Cardiff's historical past, present and future.

See the shipping headquarters, once used by the founding family of Cardiff - The Butes, now alongside the modern iconic Wales Millennium Centre, which has captured the imagination of the Welsh people and is recognised on an international stage.

The state of the art Welsh Assembly Government building, Y Senydd, is situated in a prime position on the waterfront. Y Senedd is completely transparent at the public level, a testament to the Welsh Government's philosophy of openness and transparency.

A short walk will allow us to become familiar with features such as:

The Norwegian Church
Cardiff Bay Barrage
Mermaid Quay
Y Senydd
Wales Millennium Centre
Cardiff Bay's Public Art

within the unique setting, which is Cardiff Bay.

Day 2 - (1st Alternative) - The Gower Peninsula

Experience the beauty of The Gower Peninsula, with its golden sandy beaches and limestone cliffs.

The Gower Peninsula is the UK's first Area of Outstanding Natural Beauty and is 19 miles by 6 miles of award winning beaches, dramatic cliff-top walks, picturesque villages, rolling countryside, valleys, woodlands and breathtaking views. The area boasts many ancient sites including castles and a human burial chamber dating back to 3500 BC.

Mumbles

Mumbles is the gateway to the Gower. Mumbles offers stunning views over Oystermouth Bay and is the beginning of the journey into the Gower, an Area of Outstanding Natural Beauty.

Bracelet Bay and Langland Bay

You will take a half hour walk into Langland Bay from Bracelet Bay and Limeslade Bay. The walk takes you along a steep clifftop with breathtaking views of the coast. This is a wonderful opportunity to walk and admire this wonderful landscape

Penmaen Burrows

Positioned between Three Cliffs Bay and Oxwich Bay, Penmaen Burrows has a number of archaeological remains and is both interesting and scenic.

Three Cliffs Bay and Oxwich Bay

Three Cliffs Bay on the Gower Peninsula is one of the best places in Britain to watch the sunset.

Our one hour walk offers spectacular cliff top views of Three Cliffs Bay's semi-secluded pristine beaches and clifftop views over the outstanding six mile stretch of sand which is Oxwich Bay.

Three Cliffs Bay offers some of the most beautiful views in Britain.

Worms Head and Rhossili Bay

The Gower Tour offers many wonderful views and interesting and scenic walks, however, none more so than the views of Rhossili Bay, and the walk along the body of the sleeping dragon, towards Worms Head.

We spend the afternoon enjoying everything that the Gower, this Area of Outstanding Natural Beauty, has to offer.

Cefn Bryn Ridge and Arthur's Stone

Our last stop is Cefn Bryn, Gower's sturdy spine, which commands views of the North Gower coast, Carmarthen Bay and a distant glimpse of Pembrokeshire and the rugged interior landscape of the Gower Peninsula.

Wild ponies, cattle and sheep graze freely on common ground. The legend of King Arthur which permeates across this ancient and historical landscape is never far away.

We have another opportunity to take a short walk, take in the amazing views and visit one of the Seven Wonders of Britain, Arthur's Stone.

Day 2 - (2nd Alternative) - South Pembrokeshire Coast

Laugharne

Our journey towards the South Pembrokeshire Coast brings us to the western tip of Carmarthenshire and the ancient town of Laugharne, with its 12th century castle once painted by Turner.

Laugharne is synonymous with the Welsh poet and broadcaster Dylan Thomas, who found inspiration here for one of his best known works - 'Under Milk Wood'.

Dylan Marlais Thomas is Wales' best known and most celebrated writer. Despite periods spent in London, America and elsewhere, throughout his life Dylan kept returning to Wales.

Dylan is widely regarded as one of the twentieth century's most influential lyrical poets. Although primarily a poet, Dylan also published short stories and film scripts, and publicly performed his works and conducted radio broadcasts.

We follow in the great poet's footsteps...visiting The Boat House, where Dylan lived and worked.

Pendine

We travel the coastal road alongside Pendine Sands, a seven-mile beach famous for land speed records, where in 1927 Malcolm Campbell set a new World Land Speed Record of 174.88 mph.

Our drive to Tenby is a particularly scenic route, which hugs the South Pembrokeshire coastline, occasionally offering glimpses of this popular Victorian seaside resort and the island of Caldey, home to a Reformed Order of Cistercian monks who welcome visitors to their tranquil retreat. A monastic presence has existed at Caldey since it was first settled by Celtic monks in the 6th Century.

Tenby

Tenby is steeped in ancient history with its high medieval walls which were strengthened by Jasper Tudor, uncle of the future king, Henry VII in the 15th century. Tenby has been on the leisure map for nearly 200 years, since wealthy Victorians provided finance to develop the town. Tenby is considered by many to be one of the UK's most attractive holiday resorts - a medieval centre, narrow cobbled streets packed tight with shops and places to eat, and three award-winning Blue Flag Beaches.

Day 3 - (1st Alternative)- The Castlemartin Peninsula

The Castlemartin Peninsula

We then head towards this dramatic part of The South Pembrokeshire Coast, which has many special features of interest. Photographers, birdwatchers, walkers, climbers, geologists, historians, artists and anthropologists have all been drawn to this most scenic and interesting of areas. We take a short walk to St. Govan's Chapel, one of the wonders of South Pembrokeshire, a remarkable 6th Century hermit's chapel, named after the hermit and saint who lived there. Nearby we view the dramatic coastline - the chasm of Huntsman's Leap, the sea stacks at Stack Rocks and the rock arch of The Green Bridge of Wales. (Access to St. Govan's Chapel and The Green Bridge of Wales is dependent on access via M.O.D. tank range)

A drive to Freshwater West, takes in the village of Castlemartin, whose church houses an organ once owned by Mendelssohn. Freshwater West is a haven for surfers, drawn to the area by the big Atlantic rollers that sweep in.

The Heritage Coast

The Heritage coast stretches 50 miles, following the rugged contours of St. David's Peninsula from St. Brides Bay to Fishguard. The peninsula blends history and scenery to better effect than just about any area of Britain.

Composed of low, gentle hills, but strewn with jagged rocks below sharp cliffs, with treacherous tides and strong winds common companions, the magnificent coastline of the St David's Peninsula in the far West of Wales with sandy beaches, dramatic cliffs, coves and harbours, is truly a land for all seasons.

We take a scenic drive taking in Newgale Sands - a broad expanse of sand exposed to the Atlantic gales and Solva, a picturesque village built around a fine natural harbour where there was once a direct passenger service to New York!

The City of St. Davids

St. Davids, a favourite location of artists, tavellers and pilgrims, is the smallest city in the United Kingdom, with a population of just over 1600. It is situated on the far south west coast of Wales and is the birthplace of St. David, the patron saint of Wales, who established the Christian tradition in the 6th century.

Granted city status by Queen Elizabeth II because of the presence of the cathedral, St. Davids is in reality a small attractive village, situated within the Pembrokeshire Coast National Park and surrounded by spectacular coastal scenery renowned for its natural beauty.

St. Davids' Cathedral

St. Davids' Cathedral is a magnificent building , situated in a grassy depression below the city. A serene yet majestic sight.

St David, the patron saint of Wales, was one of the earliest Celtic missionaries who sought to convert the barbaric tribes of western Europe to Christianity. He founded a monastery on the site where the cathedral now stands in AD 589. After Pope Calixtus canonised David (or Dewi as he is known in Welsh) in 1120, the site became a major place of pilgrimage. Bishop Bernard dedicated the cathedral in 1131 and construction work began in 1181.

St. Davids' Cathedral was a popular pilgrimage destination throughout the middle ages, and indeed remains so to this day attracting thousands of visitors every year.

It is not only the final resting place for the Saint himself but contains the tombs of both the great Lord Rhys of Deheubarth and his son Rhys Gryg.

Bishop's Palace

Adjacent to the cathedral stand the magnificent ruins of the medieval Bishop's Palace, built by Bishops Beck and Gower around the beginning of the fourteenth century.

The Cathedral and Bishop's Palace are marvels of medieval architecture, all the more striking for the remarkable tranquillity of this remote setting.

Day 3 - (2nd Alternative) - The Heritage Coast

Pembroke Castle

The ancient borough of Pembroke, a small but charming walled town, was built around the great fortress of Pembroke Castle, the birthplace of Henry VII. Idyllically set on the banks of the River Cleddau, it is an intriguing place to explore. Soon after The Battle of Hastings, the Normans looked to Wales and in 1093 The Earl of Montgomery built the first Pembroke Castle, an earth and timber structure. In 1189, William Marshal became Earl of Pembroke and he transformed the castle into the magnificent stone fortification which we are able to view on our tour. The impressive condition of the castle is due to the extensive restoration programme begun when Major General Sir Ivor Philipps, of nearby Cosherston Hall, acquired the ruins in 1928. Today, the General's family and Pembroke Town Council manage the trust set up by the General to maintain it.

The Heritage Coast

The Heritage coast stretches 50 miles, following the rugged contours of St. David's Peninsula from St. Brides Bay to Fishguard. The peninsula blends history and scenery to better effect than just about any area of Britain.

Composed of low, gentle hills, but strewn with jagged rocks below sharp cliffs, with treacherous tides and strong winds common companions, the magnificent coastline of the St David's Peninsula in the far West of Wales with sandy beaches, dramatic cliffs, coves and harbours, is truly a land for all seasons.

We take a scenic drive taking in Newgale Sands - a broad expanse of sand exposed to the Atlantic gales and Solva, a picturesque village built around a fine natural harbour where there was once a direct passenger service to New York!

The City of St. Davids

St. Davids, a favourite location of artists, tavellers and pilgrims, is the smallest city in the United Kingdom, with a population of just over 1600. It is situated on the far south west coast of Wales and is the birthplace of St. David, the patron saint of Wales, who established the Christian tradition in the 6th century.

Granted city status by Queen Elizabeth II because of the presence of the cathedral, St. Davids is in reality a small attractive village, situated within the Pembrokeshire Coast National Park and surrounded by spectacular coastal scenery renowned for its natural beauty.

St. Davids' Cathedral

St. Davids' Cathedral is a magnificent building , situated in a grassy depression below the city. A serene yet majestic sight.

St David, the patron saint of Wales, was one of the earliest Celtic missionaries who sought to convert the barbaric tribes of western Europe to Christianity. He founded a monastery on the site where the cathedral now stands in AD 589. After Pope Calixtus canonised David (or Dewi as he is known in Welsh) in 1120, the site became a major place of pilgrimage. Bishop Bernard dedicated the cathedral in 1131 and construction work began in 1181.

St. Davids' Cathedral was a popular pilgrimage destination throughout the middle ages, and indeed remains so to this day attracting thousands of visitors every year.

It is not only the final resting place for the Saint himself but contains the tombs of both the great Lord Rhys of Deheubarth and his son Rhys Gryg.

Bishop's Palace

Adjacent to the cathedral stand the magnificent ruins of the medieval Bishop's Palace, built by Bishops Beck and Gower around the beginning of the fourteenth century.

The Cathedral and Bishop's Palace are marvels of medieval architecture, all the more striking for the remarkable tranquillity of this remote setting.

Day 4 - The West Coast

The Vale of Rheidol Railway - Aberystwyth to Devil's Bridge

Opened in 1902, the narrow gauge steam train covers a 12 mile journey through the spectacular Rheidol Valley. (April - October)

Machynlleth

Machynlleth, the ancient capital of Wales. The seat of Owain Glyndwr's Welsh Parliament in 1404. Owain Glyndwr was crowned Prince of Wales, near the Parliament House , Machynlleth, in the presence of leaders from Scotland, France and Spain.

Portmeirion

The unique Italianate private village. The vision of the eccentric architect Clough William-Ellis. A 'home for fallen buildings'. Best known as 'The Village' in the 1960s British cult TV series The Prisoner.

Llechwedd Slate Caverns

Llechwedd Slate Caverns is set in 2000 acres of land above the town of Blaenau Ffestiniog. It has been an active, working slate mine since 1836.

A unique underground experience that takes you deep into the mountain to explore the mysterious world of the Victorian slate miner.

The Snowdonia National Park

Snowdonia National Park came into existence in 1951. It was the first designate National Park in Wales.

Snowdonia National Park covers 823 square miles of the most beautiful and unspoilt countryside in North Wales.

Day 5 - Snowdonia

The Snowdon Mountain Railway

Majestic Mount Snowdon dominates the dramatic ancient landscape and scenery of North Wales. For more than 113 years, visitors have been appreciating the truly spectacular views of the Snowdonia mountain range.The Summit of Snowdon, at 3,560ft (1085m), is the highest mountain in England and Wales. This is a truly spectacular railway journey. (March - October)

Caernarfon Castle

King Edward I intended this castle to be a royal residence and seat of government for North Wales. The castle's symbolic status was emphasized when Edward I made sure that his son, the first English Prince of Wales, was born here in 1284. In 1969, the castle gained worldwide fame as the setting for the investiture of HRH Prince Charles as Prince of Wales.

Llanfairpwllgwyngyllgogerychwyrndrobwlllantysiliogogogoch

'St. Mary's Church in the hollow of white hazel near a rapid whirlpool and the church of St. Tysilio near the red cave'.

The town with the longest place name in Wales.

Option 1: Bryn-Celli Ddu

Probably the best known and most famous neolithic site in Anglesey. Regarded as a monument of the Bronze Age as well as the New Stone Age.

or Option 2: Llandudno

Llandudno's early history evolves around the Great Orme, where Saint Tudno, brought Christianity to the region in the sixth century. Llandudno is Wales' most enduring archetype of a genteel Victorian seaside resort. The pier juts out into Llandudno Bay with views back to the limestone cliffs. Llandudno is framed between the Great Orme and the Little Orme. The top of the Great Orme, an ancient mountain almost surrounded by the sea, ranks as the one spot in North Wales with comparable views to those from the far loftier summits in Snowdonia.

Day 6 - The Heart of Wales

Scenic Drive through the heart of Mid-Wales

Rhaeadr Gwy

The oldest town in Mid Wales, Rhayader - 'The Waterfall on the Wye', is situated at a natural crossroads between east and west, north and south Wales. Rhayader has for centuries offered a welcome for travellers: from the Romans who had a stopover camp in the Elan Valley, Monks journeying between the Abbeys of Strata Florida and Abbeycwmhir, and Drovers taking their livestock to far off markets.

We drive close to Gigrin Red Kite Feeding Centre.

In the 1930s the number of red kites were down to just a couple of breeding pairs. But through dedicated conservation work they have staged an impressive recovery.

We may be in luck and spot the wonderful Red kite, which breeds in this area, flying overhead.

Hay-on-Wye

We continue to Hay-on-Wye, the 'Town Of Books', with its maze of narrow ancient streets, housing over 35 bookshops with over a million books for sale - a mecca for second-hand book and antiquarian book lovers!

Hay is located on the northernmost point of the Brecon Beacons National Park and lies on the Welsh border in the county of Powys.

The Brecon Beacon National Park

The Brecon Beacons National Park spans 519 square miles of beautiful mid-Wales countryside and contains some of the most spectacular and diverse landscapes in Europe.The landscape is scattered with prehistoric monuments, Roman remains and medieval castles, spectacular waterfalls, caves and wooded gorges, along with distinctive upland formations.

We take a short walk providing stunning views of the Beacons, including Pen-y-Fan, the highest mountain in South Wales, with its distinctive red table top summit standing at 886 metres.

ALL TOURS CAN BE CUSTOMISED

Tours are subject to our Terms and Conditions

Contact enquiries@southwalestours.com for additional information, queries and prices

Diolch yn fawr Thank You